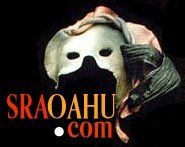 Having always enjoyed doing creative things, I find as I grow older that being creative keeps me challenged and young in spirit because it seems that anything is possible!

I grew up in Western New York State and continue to return to visit family and friends, and the beautiful country that can be found there. I have conducted collage workshops at the Chautauqua Institute which is a renowned center for the arts also located in Western New York, and another great reason to return.
Hawaii has been my home for over 30 years and I am constantly inspired by this unique place ... inspired to create, to contribute, and to change. I have been a serious visual artist since the early 1980's when my mentor, Gloria Foss, shared her knowledge with me, and which I then applied to my paintings, collages, and workshops I conduct. We have recently collaborated on a book, "Paper Dyeing for Collage & Crafts", so we can share with others our excitement of creating art with hand dyed papers.

Working in clay, especially hand built and raku or smoke fired, is another great creative expression for me.

Contributing to the artistic community of Hawaii has been important to me and I have held positions on the boards of The Association of Hawaii Artists and the Honolulu branch of the National League of American Penwomen, as well as being a member of several other art organizations. I am co-owner of The Arts of Paradise Gallery which has showcased the original artwork of Hawaii artists for visitors from around the world since 1988.